Around the office, Jr. Business Analyst Rik Mantel may be most well known for his minimalist decorating preferences and commendable use of sustainable lunch containers. However, thanks to the wildly popular questionnaire sent to all Aimsio employees, we now have the pleasure of getting to know a bit more about Mr. Mantel.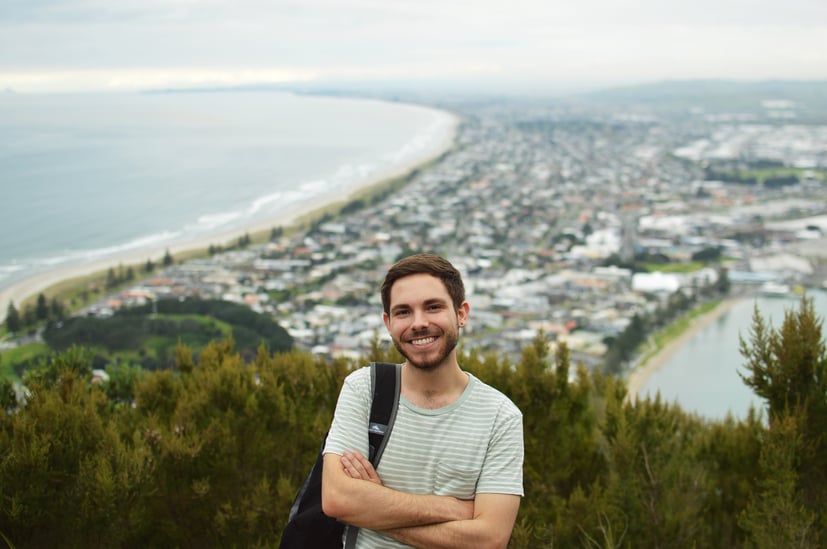 Rik at Mount Maunganui, New Zealand
At the Aimsio office in Calgary, the majority of Rik's time is spent on client implementation. Rik is part of the team responsible for carrying out the technical configuration required to get new partners up and running. As a client, if you have ever marveled at the impeccable digital replicas of your forms or appreciated how seamlessly your work flows have been integrated into the platform, there's a good chance Rik had a hand in it.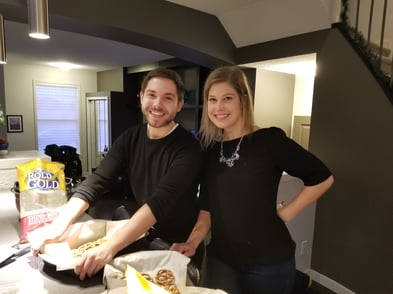 For Rik, joining Aimsio was a match made in heaven. As he recalls, Aimsio was unlike any other company hiring at the time in Calgary. The required skills outlined in the job posting matched his abilities perfectly and he was thrilled at the opportunity to join a software startup. Now, some of his favourite aspects of working at Aimsio are the open, collaborative environment and culture of helpfulness: everyone feels comfortable asking for help, and everyone is willing to help one another. As Rik puts it, "if you need it, you get a lot of help".
Rik and Aimsio Marketing Maven Erin making Christmas cookies
Rik made his way from Houston, Texas to the University of Calgary approximately five years ago. The move had quite an impact on his parents. The details are fuzzy, but it seems they have sold all their worldly possessions and are making their way north in a Winnebago. At least Calgary is accessible without an ocean crossing. If Rik's previous immigration to Japan had panned-out, his Mom and Pop would have been in for a Pacific adventure.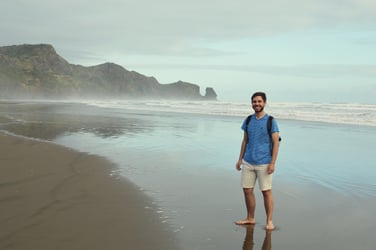 While we're on the subject of the Pacific, Rik's all-time favourite vacation spot, as well as the next place he would like to visit, can both be found there. He has provided a truly alluring vignette of Auckland, New Zealand: "San Francisco + Seattle + Portland vibes bundled with a British overtone." What a great description! Definitely sparks an interest in the charming harbour city. Rik has targeted Hawaii as his next destination in his exploration of the South Pacific.
Bethells Beach, New Zealand
Rik has a passionate interest in anthropology and lists his personal inspiration as pioneering American anthropologist, Ruth Benedict. Rik describes Benedict as "an amazing intellectual that subverted the male stronghold on academia in the 1920s". Unfortunately, Benedict died of a heart attack in 1948 but if Rik could time travel, he would go back to the '20s to meet her.
Want to know more about Rik? Strike up a conversation by asking him about:
Cooking: Making meals is a relatively recent undertaking for Rik, and to make it even more challenging, he is diving into the world of plant-based eating.

His dog: Described as a "sheddy shepard mix", Rik's dog is pretty laid-back but may go with the flow a little too willingly.

Drawing and photography: Rik likes to take photos on the weekends and he almost enrolled in art school. A few of his original pieces have been spotted around the office and definitely speak to his talent.
That's all for now, folks! We hope you enjoyed getting to know an Aimsio staffer - stay tuned for another feature soon!