There can be a lot of anxiety when it comes to switching jobs. What will my new role be like? How big is the team? Will I like my new manager? And while it's impossible to control some of these thoughts, there are plenty of reasons to be excited about joining a new team…especially if that team is Aimsio. Aimsio is a small, but growing company and there are lots of reasons people like joining our company! We've tried to summarize the big ones for you in this article.
Here are FIVE reasons why you'll love being a Java Dev at Aimsio!
1. Oh, the flexibility!
We're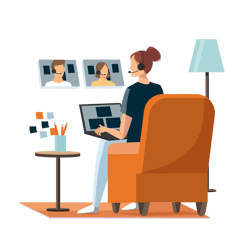 a fully distributed, remote team. Work from your own home. No commuting. No impending "recalls" to the office. We collaborate on Slack and use Jira for our project management. We're not 100% asynchronous in our work: we have standup meetings and one-on-ones with our managers, but we have a lot of flexibility in when and where we work.
2. Everything you do, counts. Big time.
We have just under 40 employees and soon-to-be 7 on the platform team (Java and mobile combined). Every bug you fix, every feature you add really matters and contributes directly to our company's success and our customers' happiness. From the words of one of our devs:
The freedom to design and develop solutions from end-to-end is a nice change of pace from the more normal turn specs into code of larger organizations.
We use an Aimsio-esque agile methodology and we push out a new release to our clients every two weeks. Lots of opportunities to get your work seen by our customers.
3. Small company, big benefits
We value each employee and know how important their lives and families outside of work are. So we focus on offering the most supportive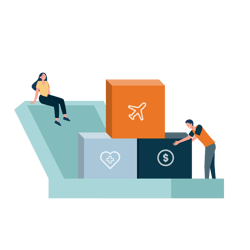 and flexible benefits offering possible. For example, every employee starts with 3 weeks of flexible vacation, plus the full week off at Christmas on paid leave. And to ensure Aimsians get frequent breaks, you also get one flex day every two months. And the 3 weeks of vacay turns into 4 at the start of year 3 with us.
We have full health and dental coverage through Sun Life (drugs and dental covered at 80%, paramedicals are $500/year/practitioner), plus short- and long-term disability and Aimsio pays 100% of the premiums. We also offer a $600 spending account that you can allocate between health spending (tax free) or wellness (taxable but very flexible!), and an RRSP/TFSA Group Savings program with 2% employer matching. We'll get you a pretty MacBook to do your Aimsio work on, and you get an extra $600 Remote First subsidy every year to build out your home office.
4. Our culture is challenging, safe, and supportive
Our teams have a continuous desire to improve and we challenge each other to learn new things and try them. We move fast, but we don't exhaust ourselves. We break things, but we fix them quickly. Each team member honestly cares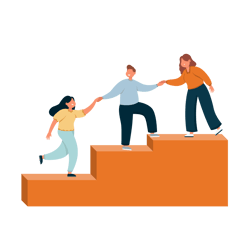 about the quality of the product. You receive quality and candid feedback from your coworkers and are encouraged to do the same. We value candor and humility: we all believe we can learn something every day and that no one knows it all, and this sentiment starts with the Founders.
We also share! Anyone who wants to join the Sales channel in Slack will be rewarded with constant updates on new customer prospects requesting demos, or signing up with us! We celebrate everything: weddings, babies, new customers, custom go-lives, software releases. The list goes on.
5. We're growwwwwwing! But the good way.
Everyone wants to be part of a successful company. And growth (in revenue, in investments, in customers, and in employee count) is a good way to quantify this growth.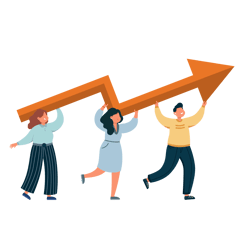 But sometimes hugely rapid growth can come at the detriment of culture. At Aimsio we are growing, you better believe it. But it's very intentional and deliberate.We're adding about 6 new hires to our team this year. And maybe 10 next year. We want to make sure that everyone who is onboarded feels like a valued part of our family and has time to get to know their colleagues.
If any of the above reasons intrigue you, we'd love to see your resume. Please visit our careers page on our website to view all open job positions.