That time we invited Katie's friends for a campfire in the kitchen.
As you may or may not know, our very own Katie Peterson has held a volunteer position with the Calgary non-profit group, Chic Geek, for almost two years. Her current role is MeetnTech Logistics Coordinator (more about MeetnTech events later).
Recently Aimsio offered our space to Chic Geek for their quarterly meeting, which they call a campfire. One Costco-size bag of marshmallows and three loads of wood later, we realized the term campfire was used in the proverbial sense. Facepalm.
What is a Chic Geek?
To be a Chic Geek is to be brave, curious (mainly about startups and tech) and supportive of others. Everyone that is interested in learning is welcome as part of the Chic Geek community - there's no need to already be an entrepreneur or tech savvy! You also don't absolutely need to be a chic...k. Gentlemen Geeks are welcome and valued as allies in diversity.
What is the purpose of the Chic Geek organization?
Chic Geek was founded by the lovely and energetic Kylie Woods. She had been passionate about the start-up culture in Calgary for a while, but when she started going to events, she wasn't seeing a lot of other women. Kylie felt that there was a role to be filled: something needed to draw women to events and encourage them to connect with each other. Chic Geek was started to give women "space to explore, discover, and learn in different areas of technology and entrepreneurship".
Back to the campfire.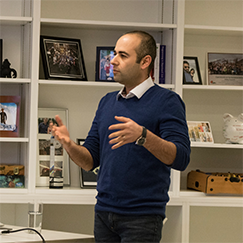 The evening kicked off with our Co-Founder and CEO, Ash, giving an account of Aimsio's inception. As a startup, our culture is inline with Chic Geek's interests and values. The room was transfixed as he recounted how the founders grew Aimsio from twilight coding sessions and near-(company)death experiences to 25+ employees, two offices and clients throughout Canada and the United States.
Lisa took the floor next and treated the Chic Geek volunteers to a custom presentation of what our product can do. The sample workflow was tailored to the audience: each step was presented from the perspective of a Chic Geek Pipeline Construction Employee. There was Sales-gal Sam, Dispatcher Donna, Supervisor Lisa, Accounting Amy and CEO Cindy. Lisa was fun and entertaining (as always) and did a great job of conveying the value Aimsio brings our customers by solving their field management nightmares.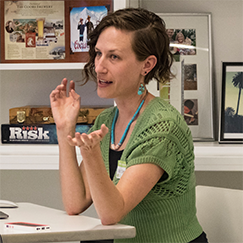 Next, Katie enlightened everyone by illustrating how the Chic Geek values of Be Brave, Stay Curious and Support Others are also demonstrated at Aimsio everyday:
Be Brave - At Aimsio, team members know they do not need to be afraid of making mistakes because there is no looming punishment for errors. sudo rm -rf / (I'll just leave that there)
Stay Curious - Innovative thinking is encouraged at Aimiso and Katie was recently empowered to implement a new framework for addressing product issues that she learned at a Chic Geek event. Design sprints are a directed, yet collaborative method of "answering business questions" in a series of phases. Katie noted several benefits of using the method including how it helped to form lasting habits that lead to better understanding of issues which directly produces better solutions. "Plus," she says, "they're fun."
Support Others - Aside from Aimsio being in the full-time business of helping companies improve their operations, within the office we are supported in our own efforts to learn and grow. Katie shared how people clap for one another's accomplishments in meetings and are very quick to help out another department in need.

Want to get involved with Chic Geek?
Volunteer
If you have a special talent that you want to share or some extra time to spend, head over to the Chic Geek website and check out their current openings for volunteer positions.
Attend an event
The next Chic Geek event is a MeetnTech on May 16! "Building Your Side Hustle" will include TED Talk-style presentations, food, networking and the chance to meet at Cibo after to keep the party going. Check out the details on the Chic Geek website or ask the Logistics Coordinator, Katie!
Become a mentor or a mentee
The Chic Geek Mentorship program is a "supportive, inclusive place where women discover themselves, build confidence, and find their tribe." If you have technical, business or career skills, you could help a mentee develop valuable skills that take their career to the next level. Also, if there are any aspiring developers or entrepreneurs in your family, send them over to the Mentorship page on the Chic Geek site!
Buy some swag
Support Chic Geek's message by purchasing jewelry, art or apparel from their online store.
Interested in joining the Aimsio Team? Visit our Careers page to discover reasons why Aimsio might be a good fit for you.