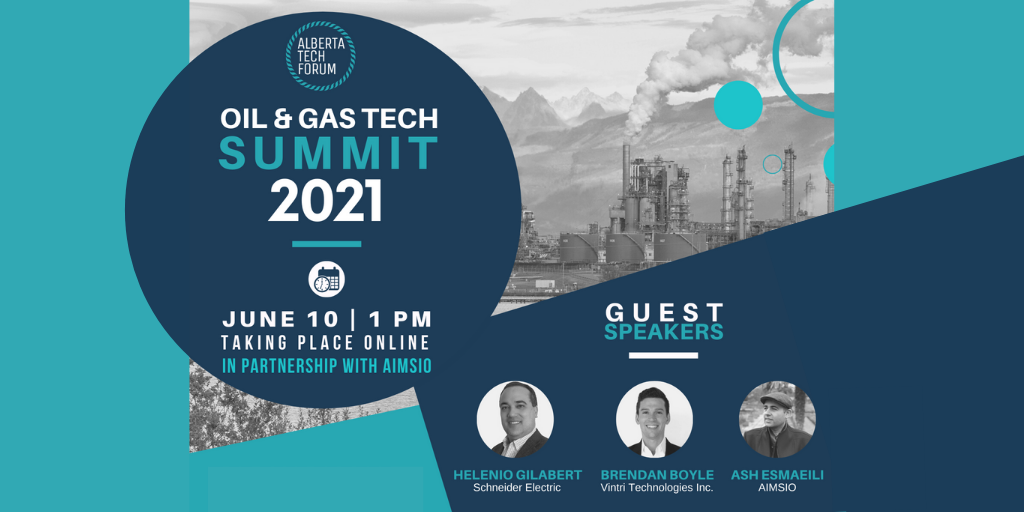 Calgary, AB (May 27, 2021) - We've got something exciting coming up on June 10th, and no, we don't mean national ballpoint pen day. On June 10th, 2021 Aimsio is co-hosting the very first Oil & Gas Services and Technology Summit.
In partnership with Alberta Tech Forum, we're excited to offer a half day Summit to those in leadership positions at oil & gas service companies or technology companies. It's about time all of us got together (virtually, of course), don't ya think?
What is this Summit? Speakers, networking, people... oh my! The Summit will be a half day (from 1:00 - 5:00 pm) of 10 rapid-fire presentations. There will also be networking opportunities intermingled throughout the afternoon. Learn something new about technology, make a new friend, or drop by for one or two presentations from thought leaders in the community. The choice is yours.
So who's lined up to speak at this event? So far, we've announced that Schneider Electric and Vintri Technologies will both be presenting. Plus, Aimsio's CEO Ash Esmaeili will be shining up the old microphone for a presentation of his own. There will be presentations about field management systems (like Aimsio), how to protect your profits using technology, and even some high-level technologies like block chain and artificial intelligence. Whether you're new to technology in the oil and gas industry, or a well-versed tech guru, there will be something for everyone.
We'll continue to announce speakers as June 10th draws closer. So if we haven't quite convinced you to register yet, stay tuned, because we've got quite the line up in store.
Sound interesting? Perhaps more interesting than celebrating national ballpoint pen day? We'd love to see you there. You can register by clicking the button below.