It must be award season because once again we've been named a finalist for an award. This time, we're up for an ASTech Award.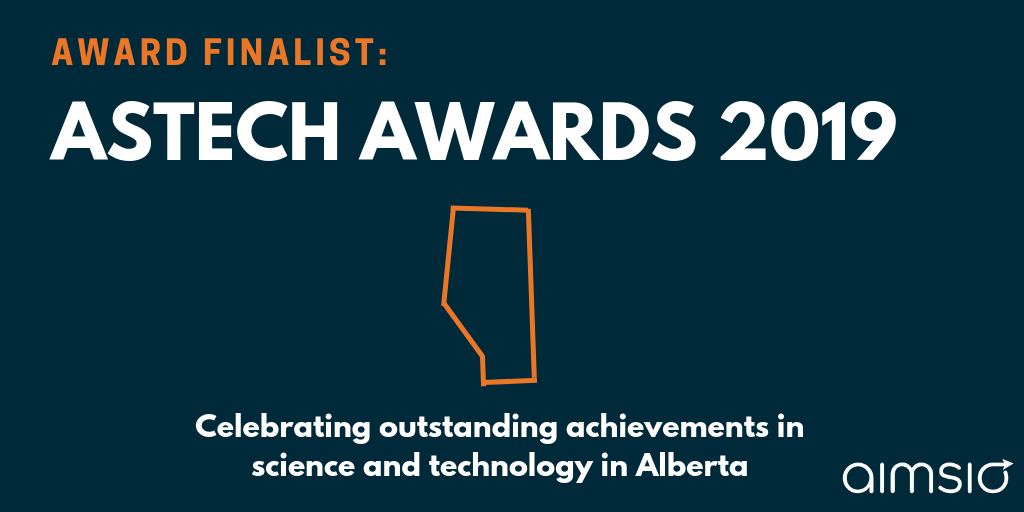 CALGARY (July 10, 2019) - Pop the champagne and bring out the cake because it was announced yesterday that we're a finalist for an ASTech Award. For the past 30 years, the ASTech Awards have celebrated outstanding achievements in science and technology in Alberta. The awards are organized by the ASTech Foundation, a foundation we can really get behind because their vision is to "inspire the next generation of innovation".
The award that we're up for is given to an organization that has a product that contributes to operational efficiency and improvements. The product must be unique and leading edge and lead to more effective processes. While we've known for quite some time that Aimsio is all of these things, we're thrilled to be recognized amongst our peers as a leader in innovation.
The winners of the ASTech Awards will be announced in Calgary at SAIT on November 1. Feel like being part of the celebrations? You can purchase your ticket to the event here.
This is the second award nomination in 2019 for Aimsio. In April 2019 it was announced that we were a finalist for a Global Petroleum Show Award.
If you're interested in discovering exactly how Aimsio makes processes more effective and contributes to operational efficiency, we'd love to hear from you! Take this quick quiz to give us an idea of what you might need and we'll be in touch!
About Aimsio
Aimsio is a software that allows companies with field operations to easily manage their crew, equipment, and projects in the field. Aimsio has two offices, one in Calgary, AB and one in Vancouver, BC. For more information about Aimsio visit www.aimsio.com.